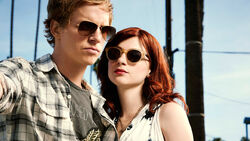 An original comedy from writer and executive producer Stephen Falk, You're the Worst puts a dark twist on the romantic comedy genre. Narcissistic, brash, and self-destructive Jimmy Shive-Overly (Chris Geere) has inadvertently found himself paired up with cynical, people-pleasing, and stubborn Gretchen Cutler (Aya Cash).
After a whirlwind courtship that culminates in Gretchen burning her apartment down with a faulty "back massager," she and Jimmy are forced to take their relationship to the next level by moving in together (which neither of them are particularly thrilled about). Now they must learn how to live with each other when they can barely live with themselves.
Ad blocker interference detected!
Wikia is a free-to-use site that makes money from advertising. We have a modified experience for viewers using ad blockers

Wikia is not accessible if you've made further modifications. Remove the custom ad blocker rule(s) and the page will load as expected.